1200 Class Railcar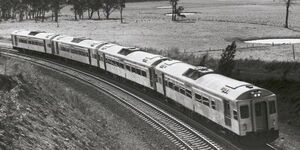 '
Details

Years built

1970-1972

Builder

Unknown

Number Produced

Unknown

Years in Operation

Unknown

Fleet Numbers

PCR1201-1203
PCR1221-1227

Unknown

Type of Train

Unknown

Number Operational

0

Number Preserved

Unknown

Number Scrapped

Fuel

Unknown

Gauge

Unknown
V - E - T - D
The 1200 class railcar or Tulloch railcar were a type of diesel railcar built by Tulloch Limited for the New South Wales Government Railways between June 1970 and May 1972. They were built to operate the Riverina Express before being transferred to the South Coast Daylight Express.
In 1968 an order was placed with Tulloch Limited for 10 railcars for the Riverina Express with the fleet delivered between October 1970 and May 1972. While awaiting delivery of sufficient cars to operate the service, some were used on Goulburn Day Train and South Coast Daylight Express services in company with the 1100 class railcars.[1]
They entered service on the Riverina Express in May 1972. The purpose of forming the trains with individual railcars was to allow it to split en route allowing carriages to detach for Cowra, Tumut, Lake Cargelligo and Hillston on selected days as well as the traditional destinations of Griffith and Albury.[1]
The 1200s soon began to suffer equipment failure, particularly with their complex electrical system. Following one suffering a distorted engine support frame all were withdrawn in January 1973. The damaged car became an office. One set of four was returned to operate the service three days a week with locomotive hauled and later DEB sets operating it on the other days. This remaining cars were withdrawn in October 1975 when a second DEB set was transferred.[1]
In May 1974 two cars were sold to Victorian Railways to complement the two DRC railcars they had purchased new. In 1977 four were converted to operate an exhibition train around New South Wales for the Silver Jubilee of Elizabeth II. Three more were pooled with the 1100 class railcars on South Coast services while the car with a damaged engine frame became an office. In 1981 it was decided to convert the latter and two of the Jubilee cars into loco hauled cars. The remaining five followed in 1983. They were placed in service on the South Coast line between Sydney and Bomaderry.[1]
They did occasionally stray operating both the Canberra Express and Newcastle Flyer in January 1986.[2][3]
Following the cessation of locomotive hauled South Coast services in January 1991 they were redeployed to operate services on the Main South line to Moss Vale and Goulburn.[4]
In February 1993 six of the carriages were given a light refurbishment before being withdrawn in November 1993.[5][6] In August 1994 six were auctioned.[7]
References
Edit
↑ "Southern and Illawarra Report" Railway Digest March 1986 page 84
↑ "Newcastle and Short North Report" Railway Digest March 1986 page 87
↑ "South Coast timetable" Railway Digest April 1991 page 114
↑ "1200 Class Tulloch Cars" Railway Digest May 1993 page 206
↑ "Loco-Hauled Car Changes" Railway Digest February 1994 page 36
↑ "Rolling Stock - Carriage Auction Results" Railway Digest October 1994 page 38
Ad blocker interference detected!
Wikia is a free-to-use site that makes money from advertising. We have a modified experience for viewers using ad blockers

Wikia is not accessible if you've made further modifications. Remove the custom ad blocker rule(s) and the page will load as expected.