I am OK

This article is OK, but needs a fair bit of expanding according to NSW Trains Wiki's page rating scale.
I am copied directly from Wikipedia

You can help by rewriting me!
40 Class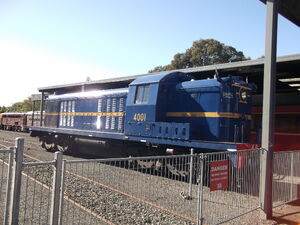 4001 at Thirlmere
Details

Years built

November 1951 to February 1952

Builder

Montreal Locomotive Works, Canada

Number Produced

Unknown

Years in Operation

Unknown

Fleet Numbers

4001–4020

(A1A)(A1A)

Type of Train

Unknown

Number Operational

Unknown

Number Preserved

3

Number Scrapped

Unknown

Fuel

Diesel-electric

Gauge

1,435 mm (4 ft 8 1⁄2 in)
standard gauge
V - E - T - D
The New South Wales 40 class were the first mainline diesel electric locomotives to be built for the New South Wales Government Railways. Built by the Montreal Locomotive Works, Canada, they were based on the ALCO RSC-3 design.
There were subtle deviations from the standard RSC-3 built by the American Locomotive Company. These included a cab that angled inwards below the cab windows to reduce the width of the locomotive at the eaves of the cab roof, and placement of the handrails on the car body rather than the standard walkway arrangement.
They were originally used on heavy freight services from Sydney to Broadmeadow] and later on North Coast services to Brisbane and Main South line services to Albury.
With major electrical work required and their lack of power compared to other diesels, the 40 class were withdrawn from May 1968 with the last being taken out of service in December 1971. Some had parts recycled in to the new build 442 class locomotives.
The New South Wales Rail Transport Museum preserved 4001 which was returned to traffic in October 2010 painted in the blue livery it received in 1953 to haul the Royal Train during the first visit of Queen Elizabeth II to Australia.
Robe River Iron Associates purchased 4002 and 4006 for use on construction trains and later as shunters in the Pilbara region of Western Australia where they were renumbered 9405 and 9401. These were withdrawn in 1979 with 4002 being donated to the Pilbara Railways Historical Society and returned to working order while 4006 was donated to the Wickham Lions Club and placed on a plinth at the tourist information bay.
The 40 class was produced in HO scale as two different runs of brass models by David Anderson. They will be produce as ready to run by Eureka Models. Due to be released in 2011& still waiting for release in 2013. A representation of the 40 class has previous been made by modifying an Atlas RSD-4/5 model both in HO and later in O scale, primarily by replacing the cab and making several detail changes, though retaining the incorrect unequal spacing of the Co type bogie instead of the correct A1A type.
New South Wales Rail Rollingstock
10 class,11 class,12 class,13 class,14 class,15 class,16 class,17 class,18 class,19 class,20 class,21 class,23 class,24 class,25 class,26 class,27 class,28 class,29 class,30 class,(3112)30T class,32 class ,(3237)(3265)34 class,35 class ,(3526)36 class,(3642)38 class,(3801)(3820)(3830)D50 class,D53 class,D55 class,D57 class,D58 class,D59 class,(5917)AD60 class,
---
---
---
---
---
---
---
Ad blocker interference detected!
Wikia is a free-to-use site that makes money from advertising. We have a modified experience for viewers using ad blockers

Wikia is not accessible if you've made further modifications. Remove the custom ad blocker rule(s) and the page will load as expected.