I really need your help!

I am rated poor class on NSW Trains Wiki's page rating scale. I really need to be expanded! I am not a stub however.
I am copied directly from Wikipedia

You can help by rewriting me!
44 Class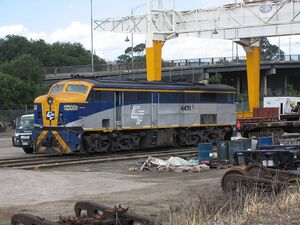 Chicago Freight Car Leasing Australia liveried 4471
Details

Years built

Unknown

Builder

Number Produced

100

Years in Operation

Unknown

Fleet Numbers

4401–44100

Co′Co′

Type of Train

Unknown

Number Operational

Unknown

Number Preserved

Unknown

Number Scrapped

Unknown

Fuel

Diesel-electric

Gauge

1,435 mm (4 ft 8 1⁄2 in)
standard gauge
V - E - T - D

The New South Wales 44 class locomotives were one of the first locomotives built by A. E. Goodwin in the Alco tradition. One-hundred of these DL500B units were built. Introduced in 1957, these locomotives have served every part of NSW, from services in the North and South, to the Indian Pacific. These units are very similar to the South Australian Railways 930 class. They have Alco 251 engines, which develop 1,450 kW (1,940 hp). With driving cabs at both ends, the front ('A' end) of the locomotive had a rounded nose (however not as round as the Clyde/GM "Bulldog nose" type) and a flat nose at the 'B' end. An automatic staff exchanger was fitted to allow the electric train staff to be exchanged at speed. Most of the class were withdrawn in 1994, but many have been retained for further use by many other freight companies, and some have been preserved.
New South Wales Rail Rollingstock
10 class,11 class,12 class,13 class,14 class,15 class,16 class,17 class,18 class,19 class,20 class,21 class,23 class,24 class,25 class,26 class,27 class,28 class,29 class,30 class,(3112)30T class,32 class ,(3237)(3265)34 class,35 class ,(3526)36 class,(3642)38 class,(3801)(3820)(3830)D50 class,D53 class,D55 class,D57 class,D58 class,D59 class,(5917)AD60 class,
---
---
---
---
---
---
---
Ad blocker interference detected!
Wikia is a free-to-use site that makes money from advertising. We have a modified experience for viewers using ad blockers

Wikia is not accessible if you've made further modifications. Remove the custom ad blocker rule(s) and the page will load as expected.