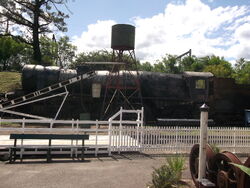 The New South Wales D57 class locomotive was a class of 4-8-2 steam locomotive operated by the New South Wales Government Railways in Australia. A total of 25 Mountain-type 3-cylinder steam locomotives were ordered by the N.S.W.G.R in 1929. They were built at the Clyde Engineering Works, Granville. They were among the heaviest of locomotives in Australia, at 250 tons, and this restricted them to only certain parts in New South Wales. They were also the most powerful conventional engines used in Australia and of approximately equal capability to the New South Wales AD60 class locomotive. They were very reliable and had the nickname "Lazy Lizzies" because they made heavy workings seem effortless. They were mostly held at Lithgow roundhouse and were used on heavy coal workings over the Blue Mountains, sometimes weighing 2000 tons. In 1960 the class began to be withdrawn and the last locomotive, 5711, was written off in 1963. The three cylinder design fitted to the class gave it a distinctive off-beat exhaust sound when climbing upgrade. This design was also fitted to the D58 class. However, a couple of features, such as the Gresley conjugating valve gear fitted to these locomotives has been the source of debate as to its efficiency. The only example left is 5711, which is currently being restored at Valley Heights.
New South Wales Rail Rollingstock
10 class,11 class,12 class,13 class,14 class,15 class,16 class,17 class,18 class,19 class,20 class,21 class,23 class,24 class,25 class,26 class,27 class,28 class,29 class,30 class,(3112)30T class,32 class ,(3237)(3265)34 class,35 class ,(3526)36 class,(3642)38 class,(3801)(3820)(3830)D50 class,D53 class,D55 class,D57 class,D58 class,D59 class,(5917)AD60 class,
---
---
---
---
---
---
---
Ad blocker interference detected!
Wikia is a free-to-use site that makes money from advertising. We have a modified experience for viewers using ad blockers

Wikia is not accessible if you've made further modifications. Remove the custom ad blocker rule(s) and the page will load as expected.