I really need your help!

I am rated poor class on NSW Trains Wiki's page rating scale. I really need to be expanded! I am not a stub however.
I am copied directly from Wikipedia

You can help by rewriting me!
The 71 class was a class of diesel locomotive operated by the New South Wales Government Railways in Australia.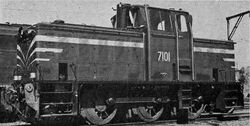 Having just completed 25 broad gauge 650 hp diesel-hydraulic shunting W class locomotives for the Victorian Railways, Tulloch Limited, with a view to receiving an order for similar units, offered the New South Wales Government Railways a similar standard gauge in 1960 for a 12-month testing period. The offer as accepted and the unit was taken into service on 11 November 1960 numbered 7101. Although allocated to Delec Locomotive Depot, all servicing was done at Tulloch Limited.
The locomotive was of the 0-6-0 wheel arrangement, fitted with a 12-cylinder Mercedes-Benz engine, Krupp hydraulic transmission and axle-gear and Behr hydraulic cooling equipment. 7101 was used on local transfer and shunting trips in the Sydney metropolitan area. It operated under conditions similar to the 70-class then in operation.
In mid-1961, Tulloch Limited was experiencing operating difficulties and was unable to fulfil their obligations in regard to the hiring. 7101 was returned to on 21 June 1961 and sold to Victorian Railways, who used the locomotive from 4 July on the construction of the North East standard gauge line between Albury and Melbourne. It was repainted in the same colours as the 25 broad gauge units and renumbered W266
New South Wales Rail Rollingstock
10 class,11 class,12 class,13 class,14 class,15 class,16 class,17 class,18 class,19 class,20 class,21 class,23 class,24 class,25 class,26 class,27 class,28 class,29 class,30 class,(3112)30T class,32 class ,(3237)(3265)34 class,35 class ,(3526)36 class,(3642)38 class,(3801)(3820)(3830)D50 class,D53 class,D55 class,D57 class,D58 class,D59 class,(5917)AD60 class,
---
---
---
---
---
---
---
Ad blocker interference detected!
Wikia is a free-to-use site that makes money from advertising. We have a modified experience for viewers using ad blockers

Wikia is not accessible if you've made further modifications. Remove the custom ad blocker rule(s) and the page will load as expected.