I am a stub

You can help by expanding me.
I am copied directly from Wikipedia

You can help by rewriting me!
  Booragul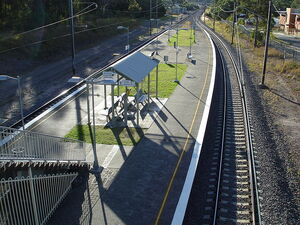 Booragul Railway Station
Newcastle Line
V - E - T - D
Booragul railway station is a train station located near Newcastle, New South Wales, Australia on the Main North railway line. The station opened in 1926, almost 40 years after the construction of this section of the Main North Line. The station has two platforms in an island co nfiguration with lightweight passenger shelters. The original station buildings were extensively damaged in the 1989 Newcastle earthquake, resulting it their demolition and replacement with the current structures. The station is served by electric intercity trains to Sydney and local trains to Morisset of CityRail's Newcastle and Central Coast Line service.
Platforms and services
Edit