I am OK

This article is OK, but needs a fair bit of expanding according to NSW Trains Wiki's page rating scale.
I am copied directly from Wikipedia

You can help by rewriting me!
  Central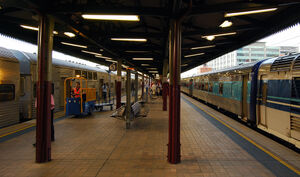 Platforms 4-5 at Central (Intercity) also known as Sydney Terminal
South Coast Line
V - E - T - D
Southern Highlands Line
V - E - T - D
Newcastle Line
V - E - T - D
Blue Mountains Line
V - E - T - D
CountryLink North Coast Railway Line
V - E - T - D
CountryLink North-Western Railway Line
V - E - T - D
CountryLink Southern Railway Line
V - E - T - D
CountryLink Western Railway Line
V - E - T - D
Indian Pacific
V - E - T - D
Central Railway Station (also known as Sydney Terminal) is located at the southern end of the Sydney CBD and is the largest railway station in Australia. It services almost all of the lines on the Sydney Trains network, and is the major terminus for interurban and interstate rail services; it houses the operations of The Rail Corporation New South Wales; it sits beside Railway Square and is officially located in Haymarket; and it is the station closest to the University of Technology Sydney at Broadway.
There have been three terminal stations in Sydney. The original Sydney Station was opened on 26 September 1855 in an area known as "Cleveland Fields." This station (one wooden platform in a corrugated iron shed), called Redfern, had Devonshire Street as its northern boundary.
When this station became inadequate for the traffic it carried, a new station was built in 1874 on the same site and also called Redfern. This was a brick building with two platforms. It grew to 14 platforms before it was replaced by the present-day station to the north of Devonshire Street. The new station was built on a site previously occupied by the Devonshire Street Cemetery, a convent, a female refuge, a police barracks, a parsonage and a Benevolent Society. The remains exhumed from the cemetery were re-interred at a number of other Sydney cemeteries including Rookwood Cemetery and Waverley Cemetery. Bodies were moved to Botany by steam tram motors and flat cars. The new 15-platform station, still in use, opened on 4 August 1906.[2], and included the previous Mortuary railway station used to transport funeral parties to Rookwood Cemetery. The last train departed platform 5 of the 1874 station at midnight. During the remainder of that night the passenger concourse was demolished and the line extended through the old station into the new station. The Western Mail train that arrived in Sydney at 5:50am on 5 August 1906 arrived at the new station. Devonshire Street, which separated the two stations, became a pedestrian underpass to allow people to cross the railway line and is now known by many as the Devonshire Street Tunnel. A 75-metre clock tower in the Free Classical style was added at the north-western corner of the station, opened in 3 March 1921. Central Station was designed by the Government Architect, Walter Liberty Vernon, and has been described as the "grandest railway station in Australia." It is listed on the Register of the National Estate. A riot, dubbed the Battle of Central Station, took place in 1916. Soldiers rebelling against camp conditions had raided hotels in Liverpool and travelled to the city by commandeered trains. Upon arrival at Central Station the rioters set about destroying the station facilities, and fire was exchanged between rampaging rioters and military police. One rioter was shot dead and several were injured. The only remaining evidence of the gun battle is a small bullet-hole in the marble by the entrance to platform 1.[5] This incident had a direct influence on the introduction of 6 o'clock closing of hotels in 1916, which lasted in New South Wales until 1955. Since it was built, Central Station has expanded in an easterly direction to accommodate the suburban electric trains. The main building is used for intercity, country and interstate services. Central Station celebrated its 100th birthday on 5 August 2006, with preserved steam locomotives providing shuttle trips from Sydney to Hurstville and Railmotor rides from Mortuary Station to Flemington goods yards.
Configuration
Edit
In the days of steam, the station was regarded as being divided into "steam" and "electric" parts. The western ("steam") half, known as Sydney Terminal, comprises 15 terminal platforms and was opened in 1906. This section is dominated by a large vaulted roof over the concourse and elaborate masonry, primarily sandstone, the most common rock in the Sydney region. This section is popularly known as the country platforms, even though only three platforms are commonly used for long-distance trains: most of the platforms are used for NSW TrainLink intercity services. To the west of Platform 1 there was a siding leading to two dock platforms for use of mail trains, now cut back to serve a car loading ramp for the Indian Pacific. The space where the mail sidings were is now a youth hostel. The hostel rooms are modelled on old train carriages. The eastern ("suburban" or "electric") part of Central Station, formerly known as 'Central Electric', consists of 12 through platforms, all aligned north-south, four of which are underground, used by Sydney Trains services and by a limited number of intercity services during peak hours. The eight above-ground platforms were opened in 1926 as part of a large electrification and modernisation program aimed at improving Sydney's suburban railway services. The four underground platforms were built as part of the Eastern Suburbs Railway. Construction commenced in 1948 but the Eastern Suburbs line was not finished until 1979. While the plans called for four platforms, two (for the Southern Suburbs line) were found to be not needed and are used for archival storage by the New South Wales Railways.
Central Station serves all suburban lines except for the T5 Cumberland line, and the regional hunter line. All long-distance rural and interstate passenger trains operated by the State-owned NSW TrainLink and the famous Indian Pacific, the twice-weekly train between Sydney and Perth, Western Australia, terminate at Central.
The platforms are numbered from 1 to 27, with 1 being the westernmost platform and 27 being one of the easternmost. The services which generally use each platform are listed below.
The station is served by twenty-seven to thirty-eight trains per hour in each direction, with additional trains during weekday peak hours.
Platforms
Edit
Platform
Line
Stopping Pattern
Notes




to




NSW TrainLink North Coast

Country services to Grafton, Casino and Brisbane
Terminal platforms
Also occasional heritage and train enthusiasts' special trains

TrainLink North Western

Country services to Armidale and Moree

NSW TrainLink Southern

Country services to Canberra, Melbourne and Griffith

NSW TrainLink Western

Country services to Dubbo and Broken Hill

Great Southern Railway

Indian Pacific service to Perth




to




Central Coast & Newcastle Line

Intercity services to Gosford, Wyong and Newcastle via Strathfield
Dead-end terminal platforms

Blue Mountains Line

Intercity services to Springwood, Katoomba, Mount Victoria and Lithgow via Parramatta

South Coast Line

Intercity services to Thirroul, Wollongong, Port Kembla, Dapto and Kiama via Wolli Creek

Southern Highlands Line

Peak hour intercity services to Moss Vale & Goulburn via East Hills or Granville
T7
Olympic Park Line
Weekday off-peak and special event limited stops services to Olympic Park
T6
Carlingford Line
One weekday service terminating Platform 10.

T1 Northern line
Suburban services to North Sydney via the City, then on to Hornsby via Macquarie Park and Epping
Continuation of services from the Western and Northern lines
T1 North Shore line
Suburban services to North Sydney, Lindfield, Gordon, Hornsby and Berowra via Chatswood
Some peak hour intercity services to Gosford and Wyong via the

City Circle
Suburban services to the City Circle via Town Hall
Continuation of services from T2 South & Inner West and T3 Bankstown lines

T1 Northern line
Suburban services to Epping via Strathfield; peak hour services to Hornsby via Strathfield
Some pm peak hour services to

   

  

Blue Mountains Line

  
T1 Western line
Suburban services to Blacktown, Quakers Hill, Schofields, Riverstone, Richmond, St Marys, Penrith and Emu Plains via Parramatta

T2 Inner West line
Suburban services to Ashfield (peak, limited stops) and Homebush
T2 South line
Suburban services to Leppington and Campbelltown via Granville




City Circle
Suburban services to the City Circle via Museum
Continuation of services from T3 Bankstown and T2 Airport & East Hills lines

T3 Bankstown line
Suburban services to Bankstown, Lidcombe and Liverpool via Sydenham
T2 Airport and East Hills line
Suburban peak hour express services to Campbelltown and Macarthur via Sydenham and East Hills

T2 Airport and East Hills line
Suburban services to Kingsgrove, Revesby, Glenfield, Campbelltown and Macarthur via the Airport

T4 Eastern Suburbs line
Suburban services to Bondi Junction
Some peak hour, evening and weekend

   

  

South Coast Line

   intercity services to Bondi Junction

T4 Illawarra line
Suburban services to Hurstville, Mortdale, Sutherland, Cronulla, and Waterfall via Hurstville
Some peak hour, evening and weekend

   

  

South Coast Line

   intercity services to Wollongong, Port Kembla and Kiama




Never completed
Used only for archival document storage
Never completed





CountryLink North Coast Line
CountryLink North Western Line
CountryLink Southern Line
CountryLink Western Line
Ad blocker interference detected!
Wikia is a free-to-use site that makes money from advertising. We have a modified experience for viewers using ad blockers

Wikia is not accessible if you've made further modifications. Remove the custom ad blocker rule(s) and the page will load as expected.