I am a stub

You can help by expanding me.
I am copied directly from Wikipedia

You can help by rewriting me!
  Dora Creek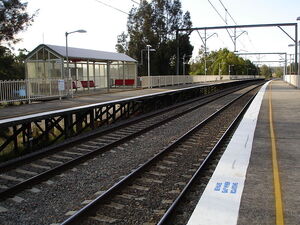 Dora Creek Railway Station
Newcastle Line
V - E - T - D
Dora Creek railway station is a railway station located on the Main North railway line at Dora Creek, New South Wales, Australia. it is served by electric trains of CityRail's Newcastle & Central Coast Line. The station opened in 1889 with two side platforms. It originally had a substantial weatherboard building on the down side, this was demolished in the 1990s and replaced with the current lightweight structures and is now unattended by station staff. The station is served by intercity trains to Sydney and Newcastle and local trains to and from Morisset.
Platforms and services
Edit