I am copied directly from Wikipedia

You can help by rewriting me!
  Dungog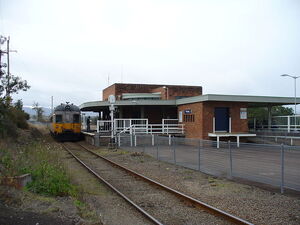 A 620/720 railcar at Dungog

Dungog railway station is a railway station on the North Coast Line branch of CityRail's Hunter Line in New South Wales, Australia. It serves the town of Dungog. The station opened on 11 August 1911. To access the station you have to cross over the tracks. There is disabled access to the platforms. There are two platforms and three lines.
Dungog is the terminating point of CityRail's diesel Hunter Line services, and is a stopping point for Countrylink XPT passenger trains. There are five local services run to Newcastle on weekdays (fewer on weekends). Countrylink services include three XPT services to Sydney each day, one XPT to Casino (the former train to Murwillumbah), one to Grafton, and one to Brisbane.
CountryLink North Coast Line
Ad blocker interference detected!
Wikia is a free-to-use site that makes money from advertising. We have a modified experience for viewers using ad blockers

Wikia is not accessible if you've made further modifications. Remove the custom ad blocker rule(s) and the page will load as expected.