East Richmond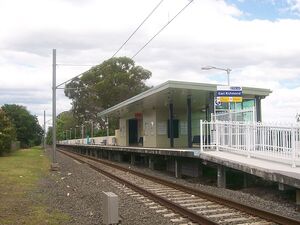 East Richmond railway station
Details

Suburb

Richmond

Number of Platforms

1

Platform Arrangements

1 side

Lines
V - E - T - D
Platform 1

Lines

Stopping Patterns
All stations services to Richmond.

All stations and limited stops services to Blacktown and Central; then on to the

Notes
East Richmond is a station on the CityRail Richmond line. It serves the eastern end of the Richmond township. East Richmond station has a side platform with near street level access, connected by a level crossing and therefore has close to Easy Access for wheelchairs.

Ad blocker interference detected!
Wikia is a free-to-use site that makes money from advertising. We have a modified experience for viewers using ad blockers

Wikia is not accessible if you've made further modifications. Remove the custom ad blocker rule(s) and the page will load as expected.