I am copied directly from Wikipedia

You can help by rewriting me!
I really need your help!

I am rated poor class on NSW Trains Wiki's page rating scale. I really need to be expanded! I am not a stub however.
  Kingswood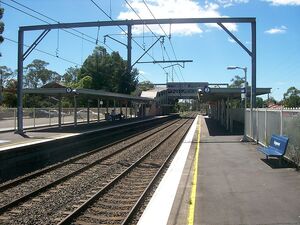 Kingswood railway station
Details

Suburb

Kingswood

Number of Platforms

2

Platform Arrangements

2 side

Lines




   

  

Blue Mountains Line

  
V - E - T - D
Blue Mountains Line
V - E - T - D
Kingswood railway station is located on the North Shore, Northern & Western Line of the Sydney Trains system in the western Sydney suburb of Kingswood. Opening in 1887, the station consists two side platforms with access via an overhead concourse and footbridge. The station is the nearest—but not particularly close—station to the Penrith campus of the University of Western Sydney. An additional station (tentatively known as Nepean station) was proposed between Werrington and Kingswood to serve the University more conveniently. A free UWS shuttle bus service operates between the station to the Kingswood, Werrington North and Werrington South campuses.
Kingswood is the 109th most patronised railway station in Sydney (out of a total of 176 stations), with an average of 2090 passengers boarding per day.
Platforms and services
Edit
As of the new Sydney Trains timetables on Sunday the 20th of October 2013: on weekdays the station is served by four trains per hour in each direction for most of the day, with additional trains provided during peak hours; and on weekends the station is served by two trains per hour in each direction for most of the day.
During off-peak hours two of these four train services has two train services terminate at Penrith and two train services continues after Penrith then terminate at Emu Plains. During evenings and on weekends all of the train services operates to and terminate at Penrith only, does not operate beyond Penrith and vice versa.

Ad blocker interference detected!
Wikia is a free-to-use site that makes money from advertising. We have a modified experience for viewers using ad blockers

Wikia is not accessible if you've made further modifications. Remove the custom ad blocker rule(s) and the page will load as expected.