I am copied directly from Wikipedia

You can help by rewriting me!
  Maitland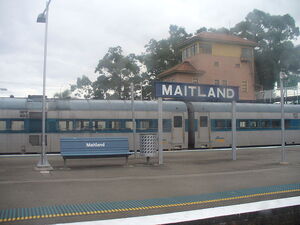 A 620/720 Class railcar at Maitland

Maitland railway station is a station on the Hunter Line. It serves the City of Maitland, New South Wales. Maitland station is the branch point for the Main North railway line and the North Coast Line, with the Main North Line continuing to Scone, and beyond and the North Coast Line continuing to Dungog and beyond.
CityRail operates diesel self-propelled railcars through Maitland as part of its Hunter Line service from Newcastle. On average it receives two local trains per hour in each direction on weekdays (which are not evenly spaced) and an hourly service on weekends. Most outbound services terminate at Telarah, the first station on the North Coast Line, with a limited number of services continuing north to Scone or Dungog. Maitland is also a stopping point for Countrylink Intercity XPT and Xplorer services on the Main North and North Coast lines.
CountryLink North Coast Line
CountryLink North Western Line
Ad blocker interference detected!
Wikia is a free-to-use site that makes money from advertising. We have a modified experience for viewers using ad blockers

Wikia is not accessible if you've made further modifications. Remove the custom ad blocker rule(s) and the page will load as expected.