I am a stub

You can help by expanding me.
I am copied directly from Wikipedia

You can help by rewriting me!
  Niagara Park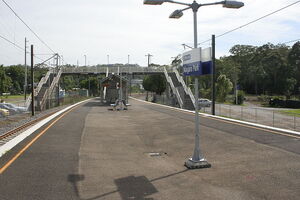 Niagra Park Railway Station

Niagara Park railway station is located in Niagara Park on the Central Coast of New South Wales, Australia on the Newcastle & Central Coast Line. The station has an island platform with two sides, and is served by intercity trains to Sydney and Newcastle.
Platforms and services
Edit

Ad blocker interference detected!
Wikia is a free-to-use site that makes money from advertising. We have a modified experience for viewers using ad blockers

Wikia is not accessible if you've made further modifications. Remove the custom ad blocker rule(s) and the page will load as expected.