Panania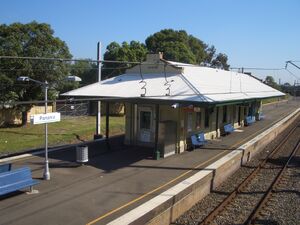 Panania Railway Station
Details

Suburb

Panania NSW

Number of Platforms

2

Platform Arrangements

Island

Lines

East Hills and Airport Line
V - E - T - D
Panania Railway Station is a small station on the outer reaches of the East Hills Line. It is served by trains bound for Macarthur via East Hills, and Glenfield via East Hills, as well as Town Hall via Airport trains.
Panania Railway station sees two trains per hour during off peak times, and up to four trains per hour in peak times.
Platforms and services
Edit
Current service patterns consist of four trains per hour during weekday peak hours and two trains per hour at other times. Previously Panania was served by local all-stations services between East Hills and the city, however as of October 2009 it is served by Campbelltown express trains due to the opening of the Revesby turnback, whereby local trains are turned back at Revesby rather than at East Hills. This has resulted in reduced travel times of 5 to 10 minutes between Panania and the city and a reduced off-peak frequency compared with previous years.
The station is served by two trains per hour each way, with additional trains during weekday peak hours.
Freight Trains
Edit
Panania rarely sees freight trains pass, unless trackwork is in progress on the Main South Line, between Glenfield and Granville. During these trackwork times, train services will divert via the East Hills Line to reach the Main South, rather than the Metropolitan Goods Lines.

Ad blocker interference detected!
Wikia is a free-to-use site that makes money from advertising. We have a modified experience for viewers using ad blockers

Wikia is not accessible if you've made further modifications. Remove the custom ad blocker rule(s) and the page will load as expected.