I am copied directly from Wikipedia

You can help by rewriting me!
I really need your help!

I am rated poor class on NSW Trains Wiki's page rating scale. I really need to be expanded! I am not a stub however.
  Penrith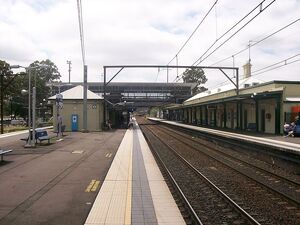 Penrith railway station
Blue Mountains Line
V - E - T - D
NSW TrainLink Western
V - E - T - D
Penrith railway station is a station on the Sydney Trains network in New South Wales, Australia. Located in the Sydney suburb of Penrith, the station serves as an interchange between the North Shore, Northern & Western Line and Blue Mountains Line trains. Western-bound long distance services also stop here. Penrith station serves passengers from surrounding suburbs, including Penrith, Lemongrove, Glenmore Park, Mulgoa, Wallacia, Warragamba, Regentville, Jamisontown, South Penrith, Mount Pleasant, Cranebrook and Castlereagh.
Many people from other suburbs which have stations other than Penrith located closer to them also choose to use Penrith station due to the Intercity and Western-bound services available. Residents from areas such as the Hawkesbury, Blue Mountains and Penrith suburbs such as Kingswood, Werrington, St Marys, St Clair, Erskine Park and surrounding suburbs often do this and have subsequent bus connections to the station. As a result, Penrith Station is somewhat of a transport hub for the wider Western Sydney region. There is a large commuter carpark with 875 spaces provided by Cityrail.
Penrith is the 29th most patronised railway station in Sydney (out of a total of 176 stations), with an average of 7860 passengers boarding per day.
Platforms and services
Edit
The station is served by three to four trains per hour each way, with additional trains during weekday peak hours.
Most Western Line trains terminate at Penrith.

CountryLink Western Line
Ad blocker interference detected!
Wikia is a free-to-use site that makes money from advertising. We have a modified experience for viewers using ad blockers

Wikia is not accessible if you've made further modifications. Remove the custom ad blocker rule(s) and the page will load as expected.