I am copied directly from Wikipedia

You can help by rewriting me!
I really need your help!

I am rated poor class on NSW Trains Wiki's page rating scale. I really need to be expanded! I am not a stub however.
  Quakers Hill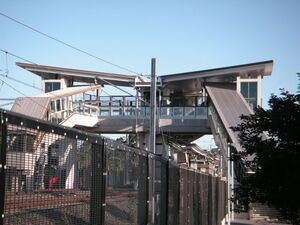 Details

Suburb

Quakers Hill

Number of Platforms

2

Platform Arrangements

1 island

Lines



V - E - T - D

Quakers Hill is a station on the Sydney Trains Richmond Line, and serves a residential community. Two sets of points at the southern end of the station allow trains to terminate on either platform.
The tracks through the station were electrified in 1975. The station had a crossing loop until the line from Marayong was duplicated to Quakers Hill in 2002. In 2011 the second track was extended to Schofields.
An easy access upgrade involving the construction of a new overhead concourse was completed in 2011. Prior to the Easy Access upgrade, the station had an overhead ticket office attached to a footbridge. This arrangement could become congested due the narrowness of the footbridge and the position of the ticket office. The ticket office is now conveniently placed on the platform. This has seriously helped the recent population growth in Quakers Hill and other surrounding areas.
Platforms
Edit
The station is served by two trains per hour each way, with additional trains during weekday peak hours.


Ad blocker interference detected!
Wikia is a free-to-use site that makes money from advertising. We have a modified experience for viewers using ad blockers

Wikia is not accessible if you've made further modifications. Remove the custom ad blocker rule(s) and the page will load as expected.