Riverstone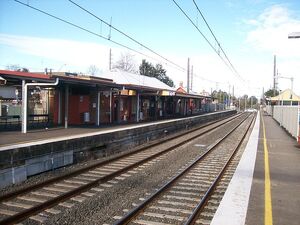 Riverstone Railway Station
Details

Suburb

Riverstone

Number of Platforms

2

Platform Arrangements

2 side

Lines
V - E - T - D
Riverstone is a station on the Western railway line, Sydney, Australia. It serves Riverstone, a residential and commercial area in North-West Sydney. The station has a crossing loop with platforms on the main line and the crossing loop. The two side platforms have street access, providing the station with Easy Access for wheelchairs.
The station opened in 1864 upon completion of the rail line to Richmond. The original railway station was made of wood and lasted until 1886, when the station was rebuilt with bricks. The line was electrified to Riverstone in 1975. Until 1992, Riverstone was the terminating point for electric passenger services to and from Sydney. Prior to 1991, passengers would change for a 2 car diesel train to complete their journey to Richmond. In 1991, electrification was completed to Richmond and the train was replaced by a two-car electric set. After an upgrade to the electric supply in 1992, through trains operated between Sydney and Richmond, and Riverstone became an intermediate terminating point.
Platforms and services
Edit
The station is served by two trains per hour each way, with additional trains during weekday peak hours.
Platform
Line
Stopping Pattern
Notes

T1
North Shore, Northern and Western line
all stations and limited stops services to Blacktown and Central; then on to the .
One early morning weekday service to Berowra starts here.

T1
North Shore, Northern and Western line
all stations services to Richmond.
One early morning weekday service terminates here returning as a limited service to Berowra via Central on Platform 1

Ad blocker interference detected!
Wikia is a free-to-use site that makes money from advertising. We have a modified experience for viewers using ad blockers

Wikia is not accessible if you've made further modifications. Remove the custom ad blocker rule(s) and the page will load as expected.