Vineyard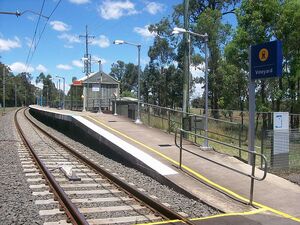 Vineyard Railway Statiom
Details

Suburb

Vineyard

Number of Platforms

1

Platform Arrangements

1 side

Lines
V - E - T - D
Vineyard is a station on the Richmond line in the western suburbs of Sydney, Australia. It serves a sparsely populated area, and is the least-used station on the Richmond line. The station is unattended and its station-only facilities are a covered waiting area, emergency help point and portable platform boarding ramp. There is no ticket machine, so customers must purchase a ticket at their destination. On 20 November 2006, Railcorp announced plans to extend duplication along the Richmond line to Vineyard station. There were also long-term plans to link the now-defunct North Western railway line to join the Richmond line at Vineyard.
Platforms and services
Edit
The station is served by two trains per hour each way, with additional trains during weekday peak hours.

Ad blocker interference detected!
Wikia is a free-to-use site that makes money from advertising. We have a modified experience for viewers using ad blockers

Wikia is not accessible if you've made further modifications. Remove the custom ad blocker rule(s) and the page will load as expected.